Start Your CSA Share Today!
Since 1996, Stoneledge Farm has been a Community Supported Agriculture (CSA) farm; a partnership between our family and yours. 22 weeks of fresh vegatables and goods from us to you. Convenient pick-up locations, serving the boroughs of New York City, to the Hudson Valley, and into Connecticut.
New Member Registrations › Member Log In ›
How does it work?
How it Works
Vegetable share
Start with a share of certified organic vegetables, delivered each week for 24 weeks.
Optional shares
Add one or more of our optional shares for regular delivery, which include Fruit, Coffee, Mushrooms and Dry Beans.
Marketplace
During the season, purchase a variety of items individually, based on availability. Marketplace items can include Vegetables and Fruit in Bulk, Coffee, Honey, Maple Syrup, Seed Oils and Dry Goods.
close
Be part of a
healthier food system
Stoneledge Farm is a community supported farm; a partnership between the farmers and the customers. Through this partnership we can work together to create a food system that works for everyone. Our customers know where their food comes from and who grows their food. They have a direct relationship with the farmers and the land. Our customers trust us to farm in a regenerative way and to produce the freshest and highest quality food possible at a fair price.
What's in a typical share?
Week #21 CSA 2022
What's in a typical share?
Week #21 CSA 2022
Week #21
FULL SHARE
Onions
Butternut Winter Squash
Celery
White Turnips with Greens
Potatoes
Kale
Thyme
Carrots
Beets
Pop Corn
SMALL SHARE
Butternut Winter Squash
White Turnips with Greens
Potatoes
Kale
Thyme
Pop Corn
FRUIT SHARE
Fuji Apples-Grown by Klein Kill Orchard
Bosc Pears-Grown by Fix Brothers Farm
MUSHROOM SHARE
Oyster-Grown by Bulich Mushroom Farm

Week #20 CSA 2022
WEEK #20 CSA 2022
FULL SHARE
Acorn Winter Squash
Sage
Minzuna
Lettuce or Arugula depending on harvest
Shallots
Carrots
Lacinato Kale
Sweet Potatoes
Radish
Boc Choi
SMALL SHARE
Acorn Winter Squash
Sage
Lettuce or Arugula depending on harvest
Carrots
Lacinato Kale
Boc Choi
FRUIT SHARE
Bosc Pears
Jona Gold Apples
Grown by Fix Brothers Farm
MUSHROOM SHARE
Shiitake Mushrooms Grown by Bulich Mushroom Farm

WEEK #19 CSA 2022
WEEK #19 CSA 2022
FULL SHARE
Boc Choi
Green Lettuce
Red Lettuce
Arugula
Radish
Onions
Sweet Potatoes
Carrots Kale
Parsley
SMALL SHARE
Boc Choi
Onions
Sweet Potatoes
Carrots
Kale
Parsley
FRUIT SHARE
Bosc Pears-Grown by Fix Brothers Farm
Golden Delicious Apples-Grown by Klein Kill Orchard
MUSHROOM SHARE
White Button-Grown by Bulich Mushroom Farm

Week #18 CSA 2022
Week #18 CSA 2022
FULL SHARE
Butternut Winter Squash
Celery
Potatoes
Red Lettuce
Green Lettuce
Arugula
Mustard Greens
Peppers
Red Onions
Mexican Mint
SMALL SHARE
Butternut Winter Squash
Potatoes
Green Lettuce
Arugula
Mustard Greens
Red Onions
Mexican Mint
FRUIT SHARE
Crimson Crisp Apples
Bosc Pears
-Grown by Fix Brothers Orchard
MUSHROOM SHARE
Crimini -Grown by Bulich Mushroom Farm
COFFEE SHARE
DRY BEAN SHARE


Week #17 CSA 2022
Week #17 CSA 2022


FULL SHARE
Potatoes
Kale
Carrots
Lettuce
Winter Squash
Onions
Peppers
Savory


SMALL SHARE
Potatoes
Kale
Carrots
Peppers
Savory


FRUIT SHARE
Concord Grapes-Tousey Winery
Macintosh Apples-Fix Brothers Farm


MUSHROOM SHARE
Shiitake-Bulich Mushroom Farm

Week #16 CSA 2022
FULL SHARE
Green Beans
Pumpkin
Radish with Greens
Carrots
Peppers
Scallions
Herb
Collards
Ancho Peppers
SMALL SHARE
Green Beans
Radish with Greens
Peppers
Herb
Collards
Ancho Peppers
FRUIT SHARE
Apples from Klein Kill Orchard
Concord grapes grown by Tousey Vineyard
MUSHROOM SHARE
Portobello Mushroom-grown by Bulich Mushroom Farm

Week #15 CSA 2022
WEEK #15 CSA 2022
FULL SHARE
Swiss chard or Spinach
Purple Carrots
Mexican Mint
Sweet Peppers
Cherry or Shisito Peppers
Winter Squash
Potatoes
Garlic
SMALL SHARE
Purple Carrots
Mexican Mint
Sweet Peppers
Winter Squash
Potatoes
FRUIT SHARE
Seckle Pears
Gala Apples-
Fix Brothers Orchard
MUSHROOM SHARE
Oyster Mushrooms-Bulich Mushroom Farm

Week #14 CSA 2022
CSA Week #14
FULL SHARE
Pie Pumpkin
Beets
Scallions
Kale
Bell Peppers
Shishito Peppers (spicy)
Tomatoes
Thyme
SMALL SHARE
Pie Pumpkin
Beets
Bell Peppers
Shishito Peppers
Kale
Thyme
MUSHROOMS
White Button
FRUIT
Melon
Clapp Pears
Italian Prune Plums
Gala Apples


Week #14 CSA 2022
CSA Week #14
FULL SHARE
Pie Pumpkin
Beets
Scallions
Kale
Bell Peppers
Shishito Peppers (spicy)
Tomatoes
Thyme
SMALL SHARE
Pie Pumpkin
Beets
Bell Peppers
Shishito Peppers
Kale
Thyme
MUSHROOMS
White Button
FRUIT
Melon
Clapp Pears
Italian Prune Plums
Gala Apples


Week #13 CSA 2022
WEEK #13
FULL SHARE
Bell Peppers
Plum Tomatoes
Red Slicers
Cherry Peppers-seeds are hot
Carrots with Greens
Cabbage
Summer Savory
Butternut Winter Squash
SMALL SHARE
Bell Peppers
Plum Tomatoes
Cherry Peppers-seeds are hot
Carrots with Greens
Summer Savory
Butternut Winter Squash
FRUIT SHARE
Clapp Pears
Zestar Apples grown by Fix Brothers Orchard
MUSHROOM SHARE
Crimini Mushrooms-Bulich Mushroom Farm
Bell Peppers
Plum Tomatoes
Slicers
Cherry Peppers-seeds are hot
Carrots with Greens
Cabbage
Summer Savory
Butternut Winter Squash
DRY BEAN SHARE DELIVERY
COFFEE SHARE DELIVERY


Week #12 CSA 2022 Season
FULL SHARE
Tomatoes
Cherry Tomatoes
Ancho Peppers-mid hot
Jalapeños or Cayenne Peppers-hot
Tomatillos
Cilantro
Acorn Winter Squash
Onions
Lettuce
Cucumbers or Summer Squash depending on harvest
SMALL SHARE
Tomatoes
Cherry Tomatoes
Ancho Peppers-mid hot
Jalapeños or Cayenne Peppers-hot
Tomatillos
Cilantro
Acorn Winter Squash
MUSHROOM SHARE
Shiitake-Bulich Mushroom Farm
FRUIT SHARE
Peaches
Nectarines
Kleinkill Orchard and Fix Brothers Orchard

Week #11 CSA 2022
WEEK #11
FULL SHARE
Tomatoes
Cherry Tomatoes
Fennel
Cabbage
Cauliflower
Squash or Cucumbers depending on availability
Bell Peppers
Cherry Peppers-hot
Onions
SMALL SHARE
Tomatoes
Cherry Tomatoes
Fennel
Bell Peppers
Onions
FRUIT SHARE
Pink Lady Peaches-Fix Brothers Farm
Yellow Nectarines-Kleinkill Orchard
MUSHROOM SHARE
Portobello-Bulich Mushroom Farm


Week #10 CSA 2022
WEEK #10


FULL SHARE
Leeks
Potatoes
Parsley
Tomatoes
Cherry Tomatoes
Bell Peppers
Broccoli or Cauliflower depending on harvest
Eggplant
Squash or Cucumbers depending on harvest
Kale


SMALL SHARE
Leeks
Potatoes
Parsley
Tomatoes
Cherry Tomatoes
Bell Peppers


FRUIT SHARE
White Donut Peaches
Yellow Nectarines
Grown by Kleinkill Orchard and Fix Brothers Orchard


MUSHROOM SHARE
Oyster Mushrooms : Grown by Bulich Mushroom Farm


Week #9 CSA 2022
Week #9
FULL SHARE
Tomatoes
Cherry Tomatoes
Eggplant
Green Beans
Red Onions
Bell Peppers
Cauliflower or Broccoli depending on availability
Carrots with the Greens
Celery
SMALL SHARE
Tomatoes
Cherry Tomatoes
Green Beans
Bell Peppers
Carrots with the Greens
MUSHROOM SHARE
White Button grown by Bulich Mushroom Farm
FRUIT SHARE
White Nectarines
Shiro Plums
Grown by Kleinkill Orchard
COFFEE SHARE
BEAN SHARE

Week #8 CSA 2022
Week #8 CSA 2022
FULL SHARE
Bell Peppers
Cherry tomatoes
Slicing Tomatoes
Basil
Swiss chard
Onions
Beets with Greens
Tomatillos
SMALL SHARE
Cherry Tomatoes
Slicing Tomatoes
Basil
Swiss chard
Onions
FRUIT SHARE
Peaches
Sour Cherries or Sugar Plums
(Depends on availability)
Grown by Kleinkill Orchards
MUSHROOM SHARE
Crimini


Week #7 CSA 2022
Week #7 2022
FULL SHARE
Cabbage
Kale
Eggplant
Basil
Green Lettuce
Red Lettuce
Garlic
Summer Squash
Spinach
SMALL SHARE
Eggplant
Basil
Green Lettuce
Garlic
Spinach
FRUIT SHARE
Sour English Morello Cherries-Fix Brothers Orchard
Sweet Sugar Plums- Kleinkill Orchard
MUSHROOM SHARE
Shiitake

Week #6 CSA 2022
FULL SHARE
Summer Squash
Cabbage
Beets with Greens
Fennel
Green Lettuce
Red Lettuce
Parsley
Scallions
Swiss chard
Garlic Scapes
SMALL SHARE
Cabbage
Beets with Greens
Green Lettuce
Parsley
Scallions

MUSHROOM SHARE
Portobello-grown by Bulich Mushroom Farm
FRUIT SHARE
Blueberries-1 basket
Sweet Cherries-1 basket
Fix Brothers Orchard

Week #5 CSA Season 2022
FULL SHARE:
Fennel
Green Cabbage
Frizee
Green Lettuce
Garlic Scapes
Basil
Sugar Snap Peas
Summer Squash
Scallions


SMALL SHARE:
Fennel
Green Cabbage
Green Lettuce
Garlic Scapes
Summer Squash
Sugar Snap Peas
MUSHROOM SHARE:

Oyster Mushrooms, grown by Bulich Mushroom Farm


FRUIT SHARE:
1 basket Red Sweet Cherries
1 basket White Sweet Cherries
Cherries grown by Fix Brothers Farm

Week #4 2022
No description
Week #3
(These items might be adjusted or even changed depending on the harvest & weather)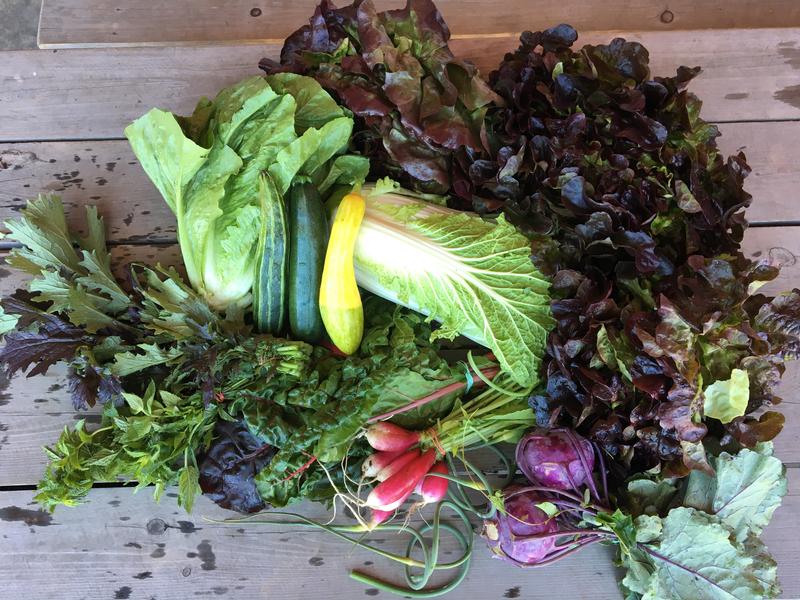 Week #3 CSA Share
Full Share
Swiss chard
Green Butterhead Lettuce
Red Butterhead Lettuce
Green Oak Lettuce
Romaine
Mustard Greens
Garlic Scapes
Escarole
Kale


Small Share
Swiss Chard
Red Butterhead :Lettice
Green Oak Lettuce
Romaine
Garlic Scapes
Mushroom Share: Crimini

Week #2
(These items might be adjusted or even changed depending on the harvest & weather)
Vegetable Share
1- Green Tropicana Lettuce
1 head- Red Oakleaf Lettuce
1 head- Red Buttercrunch Lettuce
1 bunch- Curly Kale
1 bunch- Sage
1 bunch- Arugula
1 bunch- Mizuna
1 head- Napa Cabbage
1 bunch- Cherry Radishes 
1- Transplant 
Optional Shares for Week #2
Mushroom Share: Grown by Bulich Mushroom Farm
-Oyster
Fruit Share:  Begins week #5
Week #1
Full Share
Arugula
Mustard Greens
Mint
Red Leaf Lettuce
Greek Leaf Lettuce
Tropicana Lettuce
Boc Choi
Radishes
Oregano Transplant


Small Shares
Mustard Greens
Mint
Red Leaf Lettuce
Tropicana Lettuce
Boc Choi
Radishes


Mushroom Share: Portobello


Fruit Share: Starts in July